Featured
Jamshedpur
Jharkhand
The Consulting Conclave FULCRUM 2023 based on the theme "Unlocking value in a resource constrained world" has been successfully concluded by the PGDM (GM) batch, XLRI Jamshedpur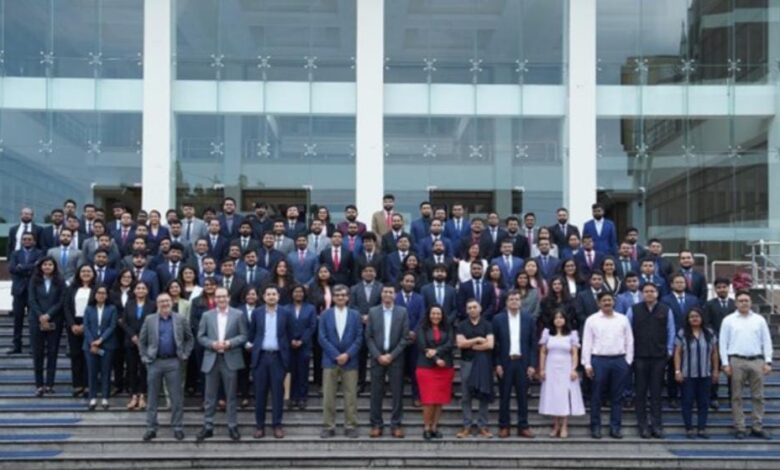 9th October 2023
Kautilya Consulting Club of XLRI, Jamshedpur, PGDM (GM) Batch 2023-24 organized FULCRUM – Consulting Conclave on October 7, 2023, with the theme "Unlocking value in a resource constrained world". The event featured a panel of senior executives from renowned consulting firms who delivered valuable perspectives on how organizations formulate effective strategies to thrive in the disruptive business ecosystem, with a focus on Industry 5.0, Generative AI, and other emerging concepts. Bhavna Rugmani Ramanathan and Rishikesh GR co-hosted the first part and Ashish Samuel and Mehak Singh co-hosted the second part of the event.
The event commenced with an Inaugural Address by Fr. Donald D' Silva, Prof Sanjay Patro and other esteemed guests. Fr. Silva and Prof Patro expressed gratitude to the speakers for their precious time and inaugurated the event by facilitating discussions on the relevance of efficient resource management and data driven decision making instrumental in avoiding uncertainties and establish sustainable processes. They also acknowledged the committee members for their tireless efforts in organizing the Conclave.
The Conclave started with the first keynote address by Mr. Navnit Singh, Chairman & Regional Managing Director, Korn Ferry (India). He stressed on recognizing the importance of innovation, collaboration, and the development of foundational skills in an environment where human resources remain the most constrained yet valuable resource, and where success is measured by the effort invested in the process rather than just the outcomes.
The second keynote address was delivered by Mr. Aditya Shangloo, Partner, EY Parthenon on "India @100". He highlighted the importance of startup ecosystem in India's progress, addressing niche problems and expanding into complex industries. Initiatives like "Make in India" aim to revitalize industries, while improving Ease of Doing business, stability, contract enforcement, savings rates, education, and reforming power sector. Consulting can aid in policy formation, roadmaps, talent development, and technology adoption to further these goals.
The first Panel discussion on 'Industry 5.0: Transforming for Sustainable Growth and Change in Business Strategy' was moderated by Prof. Sunil Kumar Sarangi, Faculty, General Management Area, XLRI Jamshedpur. Notable speakers, such as, Mr. Inder Dua, Partner, Infosys Consulting, underscored the impact of pharmaceutical sector on Industry 5.0, emphasizing sustainability, as future consumers prioritize intangible aspects, ushering in an era of human-machine collaboration and mass customization. Mr. Nikhil Kulkarni, Partner, Zinnov emphasized that in Industry 5.0, decision-making will see only slight changes, as unresolved issues from Industry 4.0, such as E-waste generation, will persist due to increased sensors and automation, keeping the fundamental challenges and decision-making principles largely unchanged. Mr. Rakesh Patro, Partner, Avasant, noted that Industry 5.0 revolves around human-centricity, sustainability, and resilience in the face of disruptions, signifying a shift from Industry 4.0's technology-driven phase, while decision-making evolves with humans thriving alongside robots as collaborative partners.
Mr Nitin Sethi, CEO – India & South Asia, AON Consulting, participated in a fireside chat co-moderated by Rishabh Sharma and Rohit Kumar. Discussions focussed around organizations facing the decision of acquiring or cultivating talent, with the advantage of internal talent being their familiarity with the company culture, while external talent acquisition is valuable when learning from different industries, and adapting to the increasing prevalence of gig or remote work. He also mentioned that In India, the persistent skill challenges, driven by the rapid pace of change, are expected to grow in complexity, yet companies will adapt to comfortably address them without becoming bottlenecks.
The Second Panel discussion on 'Navigating Commercial Excellence & Growth in the Resource Constrained World: Strategies for Success' was moderated by Prof. Saurav Snehvrat, Faculty, Strategic Management Area, XLRI Jamshedpur. Mr. Kiran Pudi, Managing Partner, Simon-Kucher, focused on pricing which emerges as a critical factor for sustainability as global standards and pricing levels continue to decrease. Ms. Preeti Khattri, Managing Director, Accenture Strategy & Consulting, discussed how Accenture is modifying its business approach, leading to the relocation of jobs to regions like India with abundant human resources, necessitating the bridging of the gap between the existing talent pool and employer demands. Mr. Ravi Kapoor, Partner and Leader – Retail & Consumer Sector – India, PwC, noted that India is at the forefront of global data consumption, and it's crucial to adopt innovative strategies to fully tap into India's potential, especially as the digital economy experiences four-fold growth, primarily driven by tier 2 and 3 cities. Mr. Raja Lahiri, Partner- Deals Consulting and National Leader- Technology Sector, Grant Thornton, discussed about challenges faced by Private Equity in the past decade, primarily related to return calculations and market exits, impacting funding for new businesses. However, the Indian startup landscape has shifted since 2020, with a focus on sustainability and governance, resulting in increased funding opportunities.
The third and final panel discussion on 'Generative AI: The Future of Business & HR,' was moderated by Prof. Gurunathan L, Faculty, Human Resources Management Area, XLRI Jamshedpur. Mr. Arvind Laddha, President- India, Mercer, discussed that with the advancement of technology in the future, the importance of upskilling and reskilling becomes critical for sustainability, as technology must further mature before completely replacing human resources. Mr. Amit Jain, Group CHRO, PeopleStrong, accentuated the fact that HR algorithm has evolved due to shifts in job roles, with the traditional human-versus-machine dynamics once dependent on coding combinations now witnessing advancements in AI's cognitive abilities. Mr. Navraj Singh Makkar, Senior Client Partner, Korn Ferry, mentioned that Gen AI is not just following predefined algorithms but actively creating new algorithms, adding an exciting dimension to its capabilities. HR seeks unwavering trust in Gen AI's reports, as organizations increasingly recognize its value for optimization, transitioning from data's mere value addition to AI's dual role of value enhancement and cost-saving, prompting enthusiastic investments by businesses.
The event concluded with the announcement of the winning team of FULCRUM 2023 Case Competition, the winners being from the PGDM(GM) batch itself who delivered an engaging presentation on the case. A Vote of Thanks was extended by the organizing team to express gratitude to the esteemed guests and an overall success of FULCRUM.